Call Us : 028 9267 7077
Free delivery on all orders over £100 Excl. Islands and Scottish Highlands
Please note that we have implemented some changes to our home demonstration service considering the current circumstances regarding Coronavirus / COVID-19
You can read about our Coronavirus / COVID-19 approach and strategy here. We have changed how we are doing things but will still provide the same high levels of customer satisfaction!

We are now delighted to offer video calls with Product Specialists both prior to purchase and for when you receive your product!

Arrange a video call with an expert today via Facetime, Whatsapp or Skype! Call us today on 028 92 67 70 77 to book your video call assessment.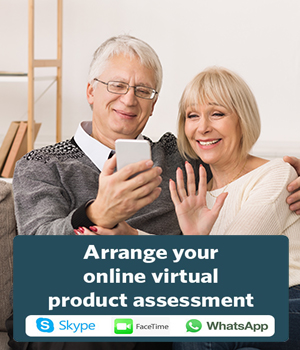 Our free home demonstration service

Our free home demonstration service allows you to try your mobility solution prior to purchase to give you peace of mind that it is ideal for you.

We know that the purchase of any equipment is a big decision and an important one that demands attention to detail and an understanding of your unique circumstances.

We are here to help you and support you so that you get what is right for you and ultimately makes life easier for you.

Our helpful and friendly team are experts in their field and will take time to discuss your unique needs with you and advise the suitability of product for you.

We will give you all the information you need to make an informed decision.
All of our home demonstrations are totally free of charge and without any obligation to purchase and we are happy to arrange to meet anywhere else outside of your home should you so wish. We welcome you inviting any friends, family or Health Professionals to also be present and help as needed.


What type of products do we offer home demonstrations for?
- Active wheelchairs
- Powerchairs
- Wheelchair Power Attachments
- Off road and all terrain wheelchairs
- Folding mobility scooters
- TGA mobility scooters
- A range of bespoke seating solutions
- Special Needs Trikes
What happens during a free home demonstration?

- Our friendly and knowledgeable experts will call you for an initial chat to understand your needs and arrange a convenient day and time with you and anyone else you would like to join you

- We can meet you at your home or anywhere else suitable to allow you to put your mobility solution to the test where you will use it most

- We take the time to demonstrate the product including the features, how it works, warranties and approximate delivery times etc

- You can test drive it and ask all the questions you want

- Advise you on VAT exemption and the process for this

- We respect that this is your home and that we are an invited guest

- We do not expect a decision to be made on the day. You should take your time to digest everything and ensure that any solution is right for you

- Should you wish to proceed you will receive a quotation by email that allows you to make payment

- Your Product Specialist will be your point of contact should you encounter any issues or faults with your product and liaise with our Engineers to resolve in a swift manner